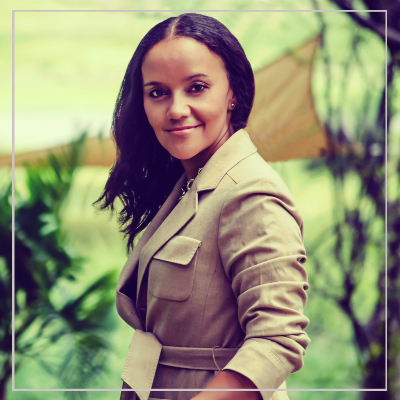 ELISA began as a personal project for Elisabeth Pasalk Valerio. Her vision was to connect entrepreneurs and leaders in Africa, help them learn from each other and grow as innovators so their ideas would become viable and sustainable projects. The initiative features a range of offerings, including internships at facilities that Elisabeth and her husband, Danny, established in Zimbabwe at Gwango Wildlife Park. Gwango has also become a place where educators and researchers from all over the world come together to connect and learn from one another.
Elisabeth is a founder of ICPD – the International Center for Professional Development – a nonprofit organization in the United States that promotes career success in the STEM fields.
Elisabeth was immersed in her work with ICPD Programs when she returned to Zimbabwe to manage a wilderness estate located at the edge of Africa's second largest National Park; and from there, started building a tourism destination based on her mother's wish for her to look after some incredibly docile herds of elephant residing on the estate. Through this endeavor, Elisabeth connected with the local community, and discovered there was no science curriculum being taught at any of the secondary schools in the area, among other voids. The discovery inspired Elisabeth to fill this gap by connecting leaders she met through ICPD with projects in Africa - so they could share their knowledge and collaborate with the area's indigenous people.

To understand the magnitude of this collaboration, it's important to understand the innate knowledge and wisdom of the people in Africa. In rural villages, the indigenous inhabitants possess ancient knowledge about natural products, including roots that help ease pain; and native plants that can suppress appetite to help with weight loss. These are only two examples among endless discoveries that could potentially benefit people across the globe.

By sharing indigenous knowledge of "natural medicine" with her global network gained through ICPD, Elisabeth envisioned a collaboration that would ultimately generate income to help sustain African communities by commercializing products made with natural materials.

Elisabeth's initial vision has grown and evolved into what ELISA is today: an endeavor that connects entrepreneurs and leaders from across the globe, helping them learn from each other and transforming their ideas into sustainable projects that create jobs in Africa.