The Ronel Jooste Dream Foundation
Likes: 0
Followers: 0
Views: 4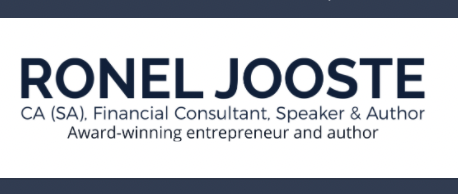 The Ronel Jooste Dream Foundation, a registered non-profit organisation, aims to take financial literacy and entrepreneurship to communities, schools, universities, businesses etc.
Ronel will be donating R10 of each of her 'Financially Fit and Wealthy' book that will be sold to The Ronel Jooste Dream Foundation.
Giving back is an integral part of Ronel's journey. She often presents workshops and talks about finances or entrepreneurship to help others on their journey towards financial fitness. Ronel is the financial ambassador of Helpende Hand and through a partnership project they will distribute 10,000 mini financial guides, written by Ronel, to communities nationwide.
Ronel is also participating as a speaker during Money Smart Week South Africa, initiated by National Treasury, with the aim to take financial literacy to the communities of South Africa.
Ronel Jooste
083 558 9037